If you've been on the lookout for extensions that will instantly add length and volume to your hair, then clip-in hair extensions are a perfect choice. These extensions are an ideal temporary solution for you if you want to switch up your look without committing to a long-term choice.
These affordable and versatile extensions come in a wide variety of colours, textures and shades, so there's something for everyone. Depending on the type of extension you want, human or synthetic, there is a clip-in hair extension that reasonably suits your budget.
What factors should I consider?
Before you decide on the type of extension to get, here are some important factors to consider:
Hair Type: Whatever your hair type might be, whether straight, curly, thin, or thick, you have to choose clip-in hair extensions that will seamlessly blend with your hair for a natural look.
Colour Matching: Choose clip-in extensions that easily blend with your natural hair colour for a seamless blend with your hair.
Length and Volume: Clip-in hair extensions come in a varying number of wefts and lengths. So, if you want longer and fuller hair, then you have to consider the number of wefts and their lengths to suit your desired taste.
Budget: Although synthetic hair is a cost-effective option, investing in high-quality human hair extensions guarantees you a more natural look and durability.
How much do clip-in hair extensions cost?
Clip-in hair extensions are generally more affordable than other hair extension types. Prices vary based on brand, quality, and length. For example, top brands like Hidden Crown range from $149-$200, while Luxy Hair is priced between $215-$390. It's essential to research specific brands to determine the best fit for your budget and desired look.
However, since the cost of clip-in extensions is not a one-size-fits-all, here are the top 10 brands of clip-in extensions and their prices to help you streamline your search.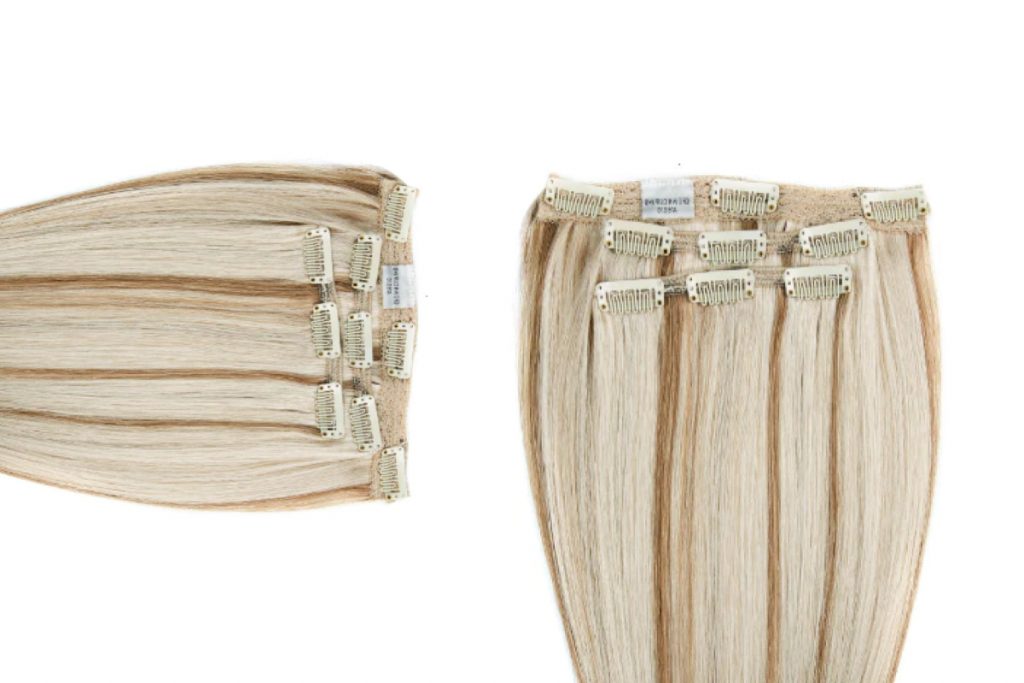 1. Hidden Crown Clip-In Hair Extension
For seamless blending with your natural hair, these extensions stand out as a great choice. This hair is made with 100% Remy human hair and offers a wide variety of shades that can seamlessly blend with different hair colours. It has an impressive selection of lengths ranging from 8 to 26 inches and is packed with three wefts with which you can achieve a voluminous look.
The cost of this hair extension ranges from $149- $200.
2. Luxy Hair Clip-In Extensions
Luxy Hair Clip-In Extensions are perfect for individuals who want to experiment with different shades. With over 35 shades in both single and multi-tonal options, Luxy Hair allows you to create a personalised look. It comes packed with 7 wefts, but you don't have to use everything if you want a subtle look.
Luxy Hair clip-in extensions cost $215 – $390.
3. RPZL Human Hair Clip-In Extensions
RPZL Human Hair Clip-In Extensions are a good investment, as they offer premium quality for their cost. Crafted from 100% human hair, these extensions come with 7 wefts and up to 15 shades for easy blending with your natural hair. The clips of these extensions are easy to open and close, so attaching and detaching is a stress-free process. If you already have long hair, then these clip-ins are perfect for increasing your hair volume.
The price range of this hair is $250-$350.
4. ONYC Tight Kinky Curl 7-Piece Clip-In
With a focus on natural curly hair, these Kinky curls are best for those with type 3B to 3C hair textures. Available in two shades, these extensions are made from 100% Remi human hair. It comes with lengths of 12-20 inches to meet the taste of different users. The wefts of these extensions also come in varying lengths, allowing for styling versatility. For a natural curly hair look, this virgin Kinky curly human hair is a perfect choice.
For $130-$150, you can get this extension set.
5. Bebonia Spiral Clip-In Extensions
Designed specifically for individuals with looser curls, these extensions are specifically suitable for those with 2C waves and 3A curls. Made from 100% Remy human hair, these extensions offer a soft, natural appearance. With various shades, lengths, and multiple wefts, you can instantly boost your hair's length and volume.
The Bebonia Spiral clip-in hair extension is priced at $309-$400.
6. Bebonia Ringlet Clip Extensions
This extension is a great solution for natural curls, designed to seamlessly add volume. Crafted from 100% Remy human hair, with 7 shades to choose from, you can achieve a fuller look without compromising comfort. Their easy and fast application process allows you to effortlessly achieve your desired look in no time.
This ringlet clip-in extension cost $155.
7. Shayla Clip-Ins Ponytail Extension
If you're on a budget, this ponytail clip-in extension is a cost-effective option. With an extensive range of 21 shades, you can easily choose one that matches your hair colour. This ponytail extension comes in 26 inches, so if you like long hair, then this hair is an ideal choice. Its comb-like base ensures simple attachment and detachment, making it a perfect option for those new to clip-in extensions.
The Shayla Clip-in ponytail extension costs $59.
8. Kurly Klips Ponytail Fro
Exclusively designed for curly hair, the Kurly Tips Ponytail Fro extension presents a chic option. It is 18 inches long, and available in colour black. However, you can have it dyed to match your hair colour. Crafted from high-quality human hair, its seamless installation process and natural appearance assure you of a stylish look.
This hair costs $179.
9. Barely Xtensions Ponytail
Lovers of straight and long hair will enjoy this ponytail extension. Crafted from high-quality synthetic fibres, it mimics the texture of real human hair. Available in various shades, this ponytail extension seamlessly blends with your natural hair and gives a sophisticated look.
The Barely Xtensions Ponytail costs $60.
10. Goo Goo Clip-In Hair Extensions
Handcrafted from 100% Remi human hair, these clip-in extensions are a premium option for instant length and volume. It comes in different lengths and shades to allow for seamless blending with your natural hair. The clips of these extensions are sturdy and guarantee a secure hold, allowing you to confidently flaunt your hair all day.
This hair costs $80.99.
Keep in mind that the cost of clip-in hair extensions varies depending on their weight, colour and length.
Conclusion
In conclusion, clip-in hair extensions are a great way to temporarily switch up your look. There's no need to break the bank for these extensions. Unlike semi-permanent extensions like sew-ins and tape-ins, clip-ins are affordable, and there's a clip-in hair extension to meet everyone's budget.
---
Related Posts to Read:
---
References: