Hair extensions are strands of human or synthetic hair that are attached to your natural hair to accomplish the desired look.
Hair extensions can be worn as ready-made wigs, clipped, glued, or sewn into your natural hair. They come in a variety of colours and styles, giving you plenty of options.
In this article, I'll answer some of your questions about hair extensions, such as whether you can reuse them.
Related Posts:
What is Hair Extension?
How Many Packs Of Hair Extensions Do I Need For A Full Head?
Can You Reuse Hair Extensions?
Yes, hair extensions can be reused. Once you purchase a hair extension of good quality, you can use it as many times as you want. Good quality hair extensions can be restyled, tinted, coloured and reused.
Human Hair extension of good quality can last you a minimum of two years if handled with proper care. You can only reuse them as long as they are not worn out, faded, matted or gotten tangled to no resolve.
Hair extensions that are cheap and of low quality can only be reused on rare occasions. Especially synthetic or low-quality fibre hair extension these types would wear out and tangle on first use. If you try to reuse them, they can appear tacky, so it is best to just throw them out after you use them once.
The high-quality fibre hair extensions can be reused, but not as much as their human hair counterparts. This category of hair extensions can be reused just a couple of times. They are not as durable as human hair extensions and also get tangled up and matted easily.
Although they last longer than synthetic or low-quality fibre hair extensions, you still wouldn't be able to get more than a couple of reuses from them.
How Many Times Can You Reuse Hair Extensions
The key to knowing how many times you can reuse a hair extension is basically how it looks and feels in your hand. The time frame of reusing hair extensions solely depends on the quality of the hair.
You cannot reuse a hair extension that looks tacky, hard to brush, has split ends or has matted. Once your hair extension still looks good, you can use it for as long as you can.
If you are looking to purchase hair extensions that you will be able to use over a long period of time, you should get quality human hair. Although they may be a bit pricey, you definitely will be getting your money's worth; they will serve you well over the years.
If you are looking for quick use with no intention of reusing the hair extension over a certain period, then you can go for the more affordable, low-quality fibre or synthetic hair extension.
How Long Can You Use The Same Hair Extensions
The reusability is entirely dependent on the hand-tied extension's quality.
There are some hair extensions for sale on the market that are quite cheap. After purchasing because of the price, you may discover that it tangles after only a few uses or becomes matty after being washed.
These kinds of hair extensions cannot be used more than once or twice. Otherwise, it will cause significant, if not catastrophic, damage to your natural hair.
If they are of exceptional quality, the same human hair extensions can be used and reused numerous times. Full cuticle hair extensions can even last for up to two years.
As you can see from the above, you may be able to save some money by purchasing cheaper hair. However, you may have wasted the installation fee by installing hair that you cannot reuse and may cause damage to your natural hair if you try to reuse it. Once your hair has been damaged, it cannot be repaired.
How To Reuse Hair Extensions
If the hair extension is of good quality that can be reused, once you take the hair extension out after the first installation, you should wash and dry it or take it for treatment at the hair salon.
Once it is treated or washed, you should store it properly. You can either hang it on a wig stand or neatly fold it in a plastic bag like the ones your Shein outfits come with. Then you can keep it in a safe place.
Whenever you are ready to reuse the hair extension, all you have to do is pick it up from where you stored it and install it again.
If you took out your hair extension and did not treat it or wash it before storing it, you should wash and treat it before installing it to avoid having your natural hair damaged.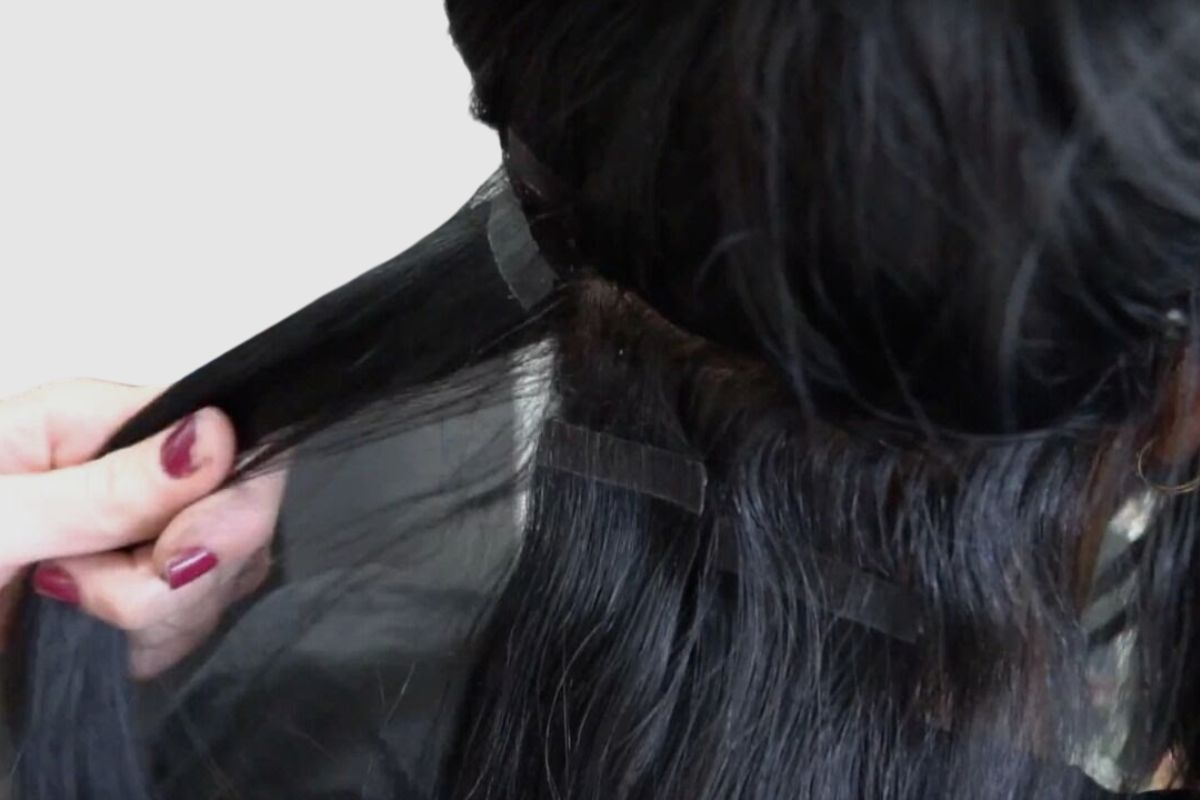 Benefits of reusing hair extensions
There are several benefits of investing in a hair extension that you can use more than once, some of which are:
You will save money in the long run as you will not need to purchase new hair extensions every single time you want to get your hair done, making them cost-effective
You will not waste money taking care of your natural hair that could get damaged by using low-quality hair extensions
Saves time
They are super comfortable
Easy maintenance
Tips for reusing hair extensions
Always treat your hair extensions before or after using them
Store them properly in a place free of dust, and you can use a wig stand or put them in a plastic bag
Do not reuse low-quality hair, as it can cause actual damage to your natural hair.
How to care for hair extensions
Brush your hair extensions regularly to prevent them from tangling
Always tie a satin scarf or use a hair bonnet when you want to sleep
Do not use a satin scarf or a hair bonnet on a wet hair extension
Wear a swim or shower cap before going into the water with your hair extensions
Use a hat or a scarf if you will be exposed to the sun for a long period of time
If your hair extension gets exposed to sand or chemicals, wash and dry them immediately to avoid tangling or matting.
Always store your hair extensions properly.
Revamp or treat your hair extensions after using them for over 6 months
Wash your hair extensions before or after use, if you intend to reuse them
Conclusion
Although quality hair extensions can be a bit costly, it is better to go for them as they are very durable, and you can use them over a long period of time without it causing damage to your natural hair as long as it is treated, used and stored properly.
Low-quality hair extensions are not very suitable for reuse, and there is a possibility of causing damage to your natural hair if you try to reuse a bad hair extension.
If you are looking to reuse your hair extensions, buy high-quality human hair extensions. If you do not want to reuse your hair extensions, you can opt for the lower quality, cheap ones like the ones they sell on Amazon.
Image Gallery – Can You Reuse Hair Extensions?
References: Artificial Hair, Wig.